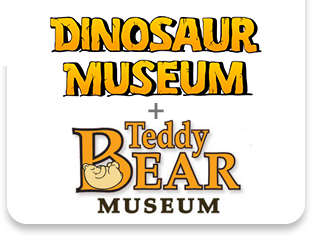 **LIMITED TIME OFFER**
Enjoy 2 amazing attractions and save 22% on a family ticket to The Dinosaur Museum and The Teddy Bear Museum in Dorchester. Visits must take place by 12th November 2017.
The Dinosaur Museum
A perfect day out for dinosaur fans of all ages! Explore the exciting world of dinosaurs, including fossils, skeletons, life-size dinosaur reconstructions and interactive AV displays!
The Teddy Bear Museum
This enchanting and unmissable family attraction is filled with people-sized teddy bears, from the earliest antique teddy bears to today's most popular bears. There are bears of all shapes and sizes, different kinds too – guaranteed to thrill everyone in the family.