With over 750 animal species, interactive experiences and the chance to feed, stroke and get closer than ever before to animals from the fearsome to the cuddly, ZSL London Zoo in London's leafy Regent's Park is the perfect family-day-out destination.
Home to one of the largest collections of animals in the UK, ZSL London Zoo 'brings down the bars' letting visitors experience the sights, sounds and smells of animals in their care. Encounter a pride of majestic Asiatic lions in Land of the Lions, head to Gorilla Kingdom set in natural African rainforest habitat, or visit Into Africa and meet zebras, giraffes, hippos, warthogs and more.
Enter Tiger Territory to come face-to-face with handsome Sumatran tigers through floor-to-ceiling windows, and get closer to snakes, lizards, crocs and spiders than you ever wanted to at the Reptile House and In With The Spiders! Penguin Beach features underwater windows for great views of penguins 'flying' underwater which will keep you transfixed in amazement for ages!
Children's Zoo
Little ones love Animal Adventure children's zoo which includes the Tree Top Zone where kids can climb and swing with the coatis who live among the leaves, and the Touch Zone which encourages little guests to get hands-on with llamas, donkeys, pigs, sheep, goats, and more.
Free Live Events
There are plenty of free, daily live events giving visitors the opportunity to learn more about the animals, their habits, conservation and natural habitats. Watch animals being fed and at play with their keepers in Megabugs Live, Meet the Monkeys, Rainforest Live, Tropical Bird Tour, In With The Lemurs, Giraffe High Tea, Camel Chat, and many, many more.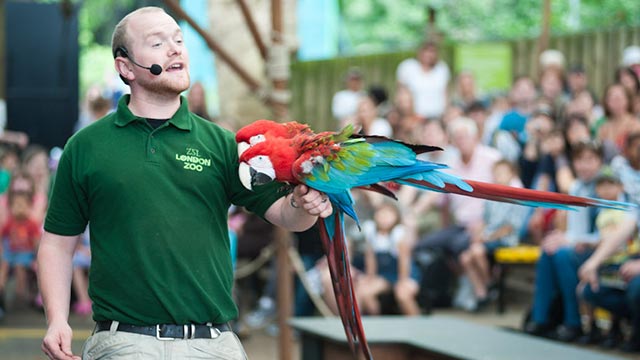 BOOK TICKETS