Up at The O2 will now be offering a more intimate and memorable experience than ever before and with enhanced health and safety measures in place. In line with social distancing guidelines, each climb has been reduced to less than half the capacity previously in place (from 30 to 10 people), giving a more exclusive experience to visitors. Prebooking is essential.
Ever looked at the O2 and thought: 'What's it like up there' Now you have the chance to find out! Suit up, grab a safety harness, and listen to some important safety instructions before you start - and then you're all good to go!
This exhilarating guided expedition will take around 90 minutes to complete and you'll find yourself taking in the views of London from 52 metres above the ground! The impressive O2 walkway is 380 metres long and at it's steepest point has an incline of 28 degrees on the way up and 30 degrees on the way back down. With three different climbs to choose from, there's plenty of opportunities to take the climb that best suits you.
Original Climb
This climb takes place during the day and allows you to discover London in a totally different way, seeing landmarks as far as 15 miles away on a clear day. You'll be able to spot landmarks like Tower Bridge and the Tower of London, Canary Wharf Tower, the Emirates Air Line (cableway), St Paul's Cathedral, Greenwich Park and many more. (11am 2.30pm)
Sunset Climb
Take yourself up as the sun goes down and marvel at London's views against a stunning auburn background of the sun goes down for the day. (3pm-5pm - dependent on the time of year)
Twilight Climb
Take a trip up in the dark and experience London's skyline brightly lit and twinkling in the night sky. (3.30pm-6.30pm dependent on the time of year)
*Please Note: Climb times for Original, Sunset and twilight climbs vary depending on the month.
Please note that the following adult/child ratios must be adhered to: 8 - 11 year olds - 1 adult to 2 minors, 12 - 13 year olds - 1 adult to 4 minors, 14 - 17 year olds - 1 adult to 5 minors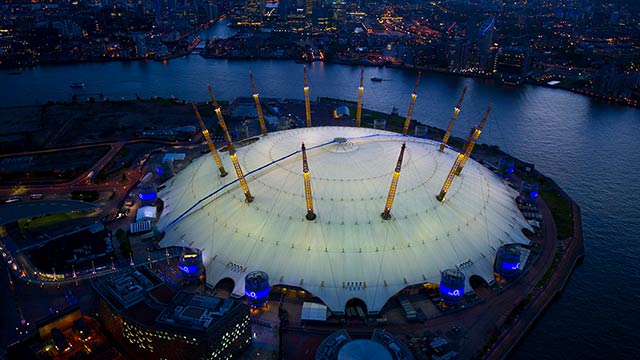 BOOK TICKETS