What better way to get out into the fresh air and see the Kent countryside than hiring an electric bike from this award-winning hire centre located in the beautiful rural village of Biddenden.
When booking with Picniq you receive an exclusive discount of up to 20% on all day hire (6hrs from 10am). All hires also come with free cycle helmets and a lock for the bikes.
Maps and guidance of where to go and what to do are provided when you collect your bikes. Kent is a delight to cycle around and with an electric bike you'll be able to go where the fancy takes you. The area is packed with numerous fascinating places to visit, vineyards, historic castles, gardens, pretty market towns, quaint picturesque villages and lots more can be seen. You can also be advised on which of the seven local pubs are the best.
The Electric Bicycles are comfortable and reliable and have a large battery range (up to 60miles) and are suitable for adults and children over the age of 14.Tag Along Bikes can also be hired in conjunction with an electric bike and are suitable for children aged 5 to 9 years.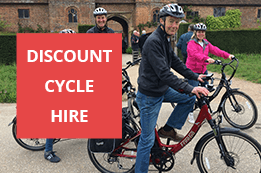 Please Note:
Confirmation sent by email within minutes of booking

You will need to print your eTicket
Your ticket includes:
Hire of selected bike type for up to 8 hours.
Cycling Safety Helmets
Bike Lock
Important Information
General Information
Anyone riding an electric bike must be over the age of 14.
Persons over the age of 14 but under the age of 16 must have the written permission of a parent or guardian to ride an electric bike. Anyone over the age of 14 but under the age of 16 must also provide evidence of proficiency to ride on the road, if required to do so.
Anyone riding an electric or pedal bike must be physically fit enough to ride a bicycle and also reasonably competent to ride on the road. Customers may be asked to demonstrate that they are competent.
It is the Customer's responsibility to ensure that the bicycle is in proper working order before the hire takes place; this includes brakes, lights, steering, tyres and pedals. If the customer is worried about any aspect of the bicycle then this must be reported immediately to UKEBC and another bike may be allocated.
The Customer is responsible for any damage and any repair costs will be deducted from the bike deposit. If there is a shortfall then the Customer is liable for the difference.
If not covered under Household or Travel Insurance, the Customer may want to take out a relevant Insurance Policy. If no insurance is taken out, the Customer will be liable for any loss or damage to the Equipment.
Proof of Customer identity may be requested when hiring, e.g. driving licence, passport or photo id. UKEBC reserves the right not to hire to an individual.
A helmet is provided free of charge for every customer. UKEBC strongly recommends that it is worn at all times when riding the bikes. All persons aged 17 or younger MUST wear a helmet whilst cycling.
The customer agrees that they will not operate the bike or permit the bike to be operated whilst unfit through drink or drugs or medication that could affect their ability to ride safely.
All equipment must be locked to a permanent fixture whenever left unattended. The bikes should be locked using the lock supplied (1 lock between 2 bikes) through the frame of the bike(s) and then to a permanent fixture. Theft of an inadequately secured bike will be the responsibility of the customer.
If any of the working parts should become defective whilst riding, the Customer should STOP and call UKEBC who will assist, either to advise or to make a repair or to issue another bike.
In the event of a puncture or burst tyre, the Customer should STOP riding and either use the puncture sealant provided, as demonstrated at the bike centre, or call UKEBC for assistance.
Please arrive 20 minutes before the start time to allow for briefing and instructions.
Hire is for 6 hours from 10am
Bikes must be returned to the hire centre you collected the bikes from by 5pm. If the equipment is returned late, UKEBC may levy a late return charge of £10 per bike per 15 minutes late per bike after 5.15pm
If required to collect any bikes from another location, UKEBC reserves the right to make a charge for this, up to £100.
Booking and Ticket Information
When you buy online you will receive an email confirmation shortly after purchase. Your tickets will come direct from UK Electronic Bike Centre within 48 hours of your booking. This will come through sooner if your visit date is within the next few days.
Tickets are available to purchase online up to 11.45pm for the next day.
A refundable £250 bike deposit is required and will be taken on the day of hire (1 payment per group). This payment is in the form of a credit or debit card pre-authorisation.
Picniq accept all debit cards, Maestro, Visa and Mastercard as methods of payment. There is no credit card charge or booking fee.
Tickets purchased through Picniq are not refundable. The date of the visit can be amended for a fee of £10 per booking. Terms and conditions apply.
Picniq Ltd acts as agent for all tickets/bookings on behalf of the supplier/principle ('the attraction'). For Picniq booking termsclick here
Map & Directions
Directions
UK Electric Bike Centre,Headcorn Airfield, Shenley Road, Headcorn, Kent TN27 9HX
BOOK TICKETS